5 Tips to prepare for back to School. Online!
The way we learn is continuously evolving, online courses are becoming a more affordable option for continuing education. Online learning is convenient, affordable and a great way to continue your education while working and providing for yourself and your future. With the flexibility of online classes, some of the benefits of taking online classes are obvious. You can plan your work on your online coursework around your career, around your family's schedule, around social commitments, and you can travel anywhere with an internet connection and still complete your course requirements. And you never have to worry about missing a lecture--you'll probably have to the able to login and watch lectures right from your phone!
Whether it's been a few days or a few years since the last time you had homework to submit, here are five great suggestions for starting your online learning journey off right, and getting you back into that "student" headspace:
5 things to get you back in the swing of things
1. Make a plan!
First, I know that this one should probably just be given, so I won't belabor this point too much. But since I'm here writing this and you're here reading it, I do just want to emphasize how important it will be to remember that an online class doesn't come with may of the cues and other stimuli that many of us relied (even without thinking about it) in our previous education. With online education (by definition), you aren't in a physical classroom with your instructor or other students; if you get distracted or step away to use the restroom, you don't have to make eye contact with or walk past several rows of your fellow learners. If your online education is a steam-powered train, just know from the outset that you are going to be the only one who will be shoveling the coal into the engine. So, remember: It's up to you to keep that train moving!
I think we would all agree with the general principle that "good work takes planning", but use the valuable time between now and the start of your online coursework to think about the main reason(s) why you're taking this course. Is this going to allow you take on new challenges at work? Is something that genuinely interests you? Whatever it is that drove you to look at online courses, remember to remind yourself of that motivation often. It will certainly be easier to sit through a lecture after a long day at work if it feels like new and exciting opportunities are almost within your grasp. And it may not be a bad idea to write those motivations on a sticky note and sticking it somewhere you see it multiple times a day, just so your online class (and your motivations for it) stay at the forefront of your mind.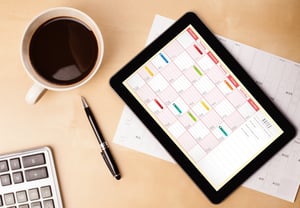 Now, with most online classes (just like in high school or college) your instructor will usually have some sort of syllabus with an overview of the course. Use that to plan out your course. Saving all of your class's due dates somewhere where you can be reminded can be extremely helpful. Use your calendar of choice (I personally like Google Calendar, but there's also Apple's iCal and the Microsoft's Outlook Calendar, to name a few others). I also recommend setting due dates for assignments at least a day before they are due and you might consider setting aside a couple (maybe 2 to 3) one-hour blocks of time, in the days leading up to any exams or tests to give yourself time to study.

2. Talk to your classmates and professor


Not unlike traditional classes taught in a classroom in a brick-and-mortar building, it can be easy to quickly start feeling isolated in an online class. The first time you send out a message to your classmates or your instructor in an online class discussion, the idea of diving into the conversation right in the beginning might be an uncomfortable thought. This may be especially true if you are someone who generally likes to listen, then share your ideas after having taken some time to mull things over in their head first. Take it from someone who's been there before though: Time in an online class will probably feel like it's flying by very quickly. If you choose not to get involved in discussions or clarify questions with your instructor early in the course, you may find that it could end up taking significantly more time in the long run to complete all the work that's required for the course.
However, if you get involved in discussions in your first week of an online class and if communicate questions with instructor whenever you have them, you can be confident that you'll see those early efforts pay off. When you're logging in to online course materials more often to read and participate in discussions, you'll probably find that you understand the material better as a result. And as you become more comfortable with sharing your thoughts and questions right when you have them, you won't have to spend as much time going back to re-watch earlier lectures or trying to understand what was being asked in older discussion posts.
3. Make sure you are connected
WiFi? Check ✔
If you're confident in your ability to access and log into your online learning materials, I take a moment to think about your "connection" in terms of a plan for success. The time just before starting a new class may be a great time to make an upgrade and invest in a few new tools. Of course, this is not to say that everyone can or should go out and spend a significant portion of their paycheck on new tech.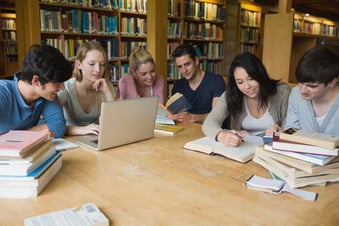 But if it's within your budget (or if your company would reimburse you for a portion of the cost) and you had already been considering making an upgrade from an older computer, purchasing a professional software or buying noise-canceling headphones, making this purchase now certainly could help motivate and get you excited for the upcoming online course. If you don't currently have a laptop or desktop computer that really fits your needs, check out this guide from PC Mag that lists some of the best laptops on the market for college students. While some models are more expensive than others, you should be pretty safe with a Google Chromebook for browsing the Internet and writing papers. And if it isn't in the budget to go out and purchase a new computer, consider going to your local library. Not only is it a free resource for computers it's also a great place to study and block out everyday interruptions
4. Setting up your homework

"spacetime

"
All of the smartest people--Albert Einstein, Stephen Hawking, Neil DeGrasse Tyson--say that space and time are actually just two different ways of measuring one thing, i.e. "spacetime." Now, while I won't pretend like I understand anything about astrophysics, I can at least wrap my head around the idea that "space" and "time" are connected because they've always seemed related to me… at least as it pertains to me getting the most out of my work time.

Using the amount of time you've estimated from your course syllabus as a guide, give yourself a window everyday (or maybe every other day) that you will sit down, unplug and work on your course. Life is hectic, it isn't going to stop because you want to learn, but by sectioning off this time every few days you are telling yourself that most of the other things can wait for these few hours. Give yourself a space too! A desk in your bedroom, an office in a spare room or even just space at the kitchen table--any place can be the best space for you to get work done. Perhaps consider trying multiple workspaces the first week of your class to see where you work best, but then make a decision that whichever space you decide will be your primary workspace for the rest of the course. Once you've settled on your dedicated workspace, make sure to do your best to keep the space clean in your free time, to minimize the potential for future distractions and to save yourself the time needed to clean before you can get down to work next time.
5. Explore what works best to Maximize your Learning.
Depending on the e-learning course you decide on, you may find that the course's creators and/or instructors offer several tools that would allow you decide how you want to make time for the material. In many online courses lectures are often pre-recorded, and often there is are options for you to replay that confusing section of the lecture from last week, or you can even listen to next week's lecture early if you're lucky enough to chance upon some of that elusive "free time" I've heard some people talk about.
Look to see if your online course offers the ability to download recorded video or audio content to your phone or computer, think about what times you might have during your week where listening to your lecture might be an option. If you're a commuter, a runner or the parent of a teenager learning a new instrument, you may already be familiar with audio books or podcasts that you can download and listen to. So if you already have time scheduled regularly with your trusty headphones, why not give listening to your online lectures a try? Even if there's video content you have to return to watch later, you may find that the material actually makes more sense, since you'll be listening to your instructor explain the course material for a second time.
Its easy to get back into the swing of things, it take the 5 tips above and of course dedication to stay in the class throughout the entire semester! Just stay on course and don't get behind and you should be set to excel in your eLearning!
---
Interested in learning more about online learning and digital badges, read our blog on Digital Badges, what they are and how you can best use the.
---