Branding, Controlling and Selling your Certifications
Leverage Sponsor Templates to Gain Flexibility and Visibility
Most certification bodies, or sponsors, are in a position to develop classes, eLearning, books and other resources to prepare candidates for their certification exams. The use of these various learning components requires a defined workflow in many cases, such as completion of course prerequisites, gaining approvals before the release of certification exams, and for some sponsors, the separation of revenue streams from certification and training activities to meet compliance requirements.
Defining processes and maintaining control of the release of assets can be time consuming. And while there is no blanket prohibition on an organization offering both training and certification programs, there are standards set to separate the two in order to safeguard the impartiality of certification practices and decisions, including the separation of revenue streams and not restricting certification on any grounds such as requiring specific training programs.
Simplifying Processes, Maintaining Compliance
Xvoucher is giving sponsors an easy way to set up and manage business rules—even outside their own internal systems—for greater control and easier management. Within Xvoucher, templates allow sponsors to create bundled packages with pre-defined standards of use that allow for complete visibility on every detail until the product is consumed by an end user. Channel resellers can purchase your bundle and then add in their learning products. The final offering not only differentiates them in the marketplace, it gives you the security of knowing that each reseller will be held to the same standards that you created.
With templates, you can:
Define and maintain branding

Eliminate post-sale product modifications by channel partners

Allow resellers to add to bundle, but not modify it

Assign variables such as prerequisite classes or certifications, exam prep score achievements or reference submissions

Require a legal release to allow for data privacy and protect your content-leaving a full audit trail
Templates in Action
A great use of the sponsor template is to collect, review and approve the references or application needed to take a certification test—a process that has traditionally required time-intensive management.
For example, one of our clients, a marketing certification body, used templates to set up a new exam with an application that required approval. The application was set up as a variable, with exam access only being granted upon application completion. The sponsor also implemented their branding guidelines throughout the bundle, allowing it to be sold through their global training partners, or resellers, with branding intact.
The resellers were then able to add in their exam prep and training courses—giving corporate customers access to the preparation materials and certification exam. With this process, sponsors can track their certification bundle from creation to completion within the Xvoucher platform.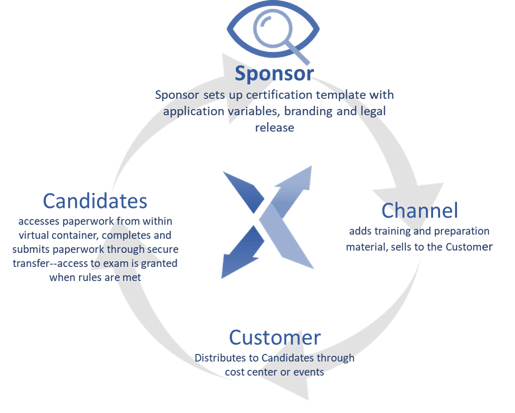 Revenue Streams
Sponsor templates can also be used to help separate revenue streams from their certifications and training tools sold by channel partners. By setting up sales by item, Xvoucher can reconcile the revenue earned by certification sales and the revenue earned by the sale of training tools, thereby creating a firewall between the sales. In the case of an audit of a certifying body, the separation eliminates the risk that content is seen as having built-in exclusivity, which could strip a sponsor of their certification and erode their legitimacy.
Using Xvoucher, the creation of branded packages with defined criteria and variables extends sales across multiple channels while helping maintain quality standards. Plus, with the ability to measure and track consumption, sponsors can identify potential areas for growth and reduce fraud. If you are interested in learning more about Sponsor and all of the other features we have to offer take a look at our Sponsor Release.