What is XSI?
For Xvoucher, supplier integration is the most common and fastest growing type of application integration. The ability to add new suppliers with varying types of content in a repeatable and scalable manner is crucial to supporting our customers' needs in the certification and learning markets. With the launch of our new Xvoucher Supplier Integration Framework (XSI) we have the ability to offload integration and provide more access to multiple content suppliers. This allows the Xvoucher Learning Exchange to offer a richer and more productive solution to all of our customers.
Our developers set out to create a framework design to enable a responsive integration environment that provides access to multiple content providers, responsive customer onboarding, and scalable supplier integration.
How XSI enhances the Xvoucher Learning Exchange
This Enterprise level integration supports three types of partner integration:
Suppliers

- Labs, Exam Prep, eBooks, eLearning, Testing, and other materials

Enterprise

- Order and eCommerce, HR, Workforce, ERP, and Financial Systems

Training Delivery Systems

- XSI extends instructor driven

learning management systems
Key XSI Benefits

:
Supplier and Content Access
Quicker on boarding time for new suppliers

Access to a wide array of existing supplier content

Ability to roll out new programs with multiple content items

Adjust to training and education market demands quicker and with less cost
Ability to integrate to enterprise business systems for seamless purchase, distribution, tracking, and financial workflows. Examples include:
Training Delivery and Credentialing

Learning Management System

Supply Chain Management (SCM)

Customer Relationship Management (CRM)

Business Intelligence

Human Resources

E-commerce systems
Our XSI framework is improving the management and sharing of data within the Learning Exchange. This is making data more accessible to additional systems and people. Workflows can now be automated, reducing the processing time and lowering the possibility of errors. The creation of a flexible IT infrastructure makes modifications to the environment and system easier, less costly and allows these modifications to occur with less impact.
To sum all of these benefits up-our XSI framework greatly increases efficiency! Getting products to the market is now faster, with shorter processing times and a quicker ROI.
XSI Framework
[This section outlines a more in depth detail of our design achievements for the XSI framework.]
Uniform Supplier Access: XSI provides uniform access to multiple suppliers allowing a single entry point for labs, test prep, static and dynamic content, video, exams, and reporting. XSI incorporates the common operations from a given supplier API to provide the content delivery our customers require without the development and infrastructure hassles.
Responsive Customer Onboarding: XSI enables quicker customer onboarding to access supplier content. Instead of enduring a multiple month development cycle XSI enables an approximate 1 to 3 week development cycle allowing our customers to incorporate the content required more quickly to enhance their certification or learning programs.
Scalable Supplier Integration: XSI allows for both horizontal and vertical scaling of supplier endpoints to support separation of concerns and high volume transactions. This is accomplished by deploying multiple instances per server or by scaling across servers and load balancing in both scenarios.
Xvoucher Landscape with XSI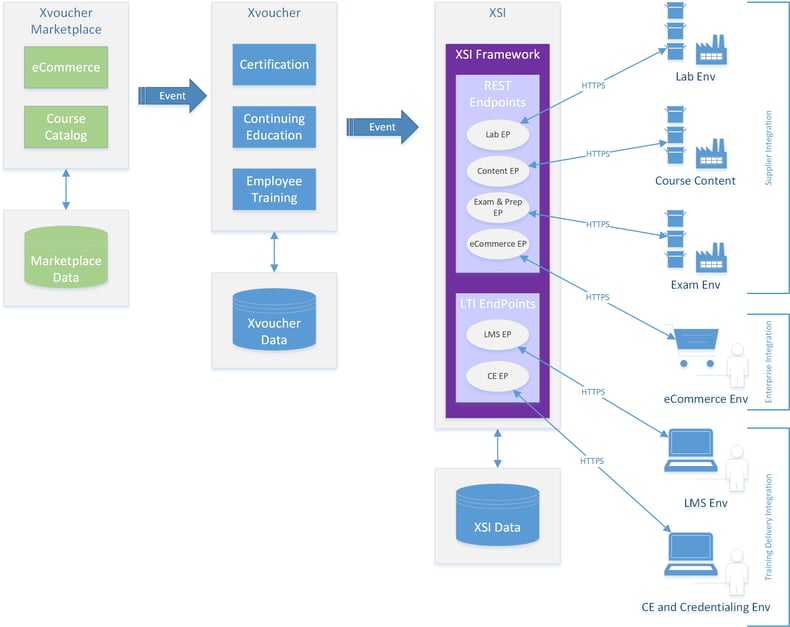 The XSI logical component architecture is shown in the above illustration. In this simple scenario, events are initiated between Xvoucher, XSI and the target endpoint to enable class selection and purchase. Once the purchase is complete, the candidate is taken directly to their content via the launch operation.
Technology Stack and Security Protocols
XSI uses the Microsoft .NET technology stack utilizing a basic lightweight container architecture and includes

4 system components
:
Xvoucher Supplier Integration Framework

(XSI). This component is responsible for housing multiple supplier endpoints along with other enterprise integration endpoints.

Xvoucher

: This component is the SaaS web application that manages all aspects of certification, training, learning, and voucher management enterprise processes and workflows.

Target EndPoints

: These are the SaaS web application and/or hosted APIs associated with our partner suppliers and other enterprise applications.

Internet Information Server

(IIS): This component serves as the lightweight container, similar to Tomcat, that provides the execution environment for XSI.
XSI offers support for the following interfaces:
REST/JSON

- Representational State Transfer, or RESTful, web services provide access to a wide array of target application endpoints as most vendors and application developers have adopted this API format in the last decade. Paired with JSON (javascript object notation) and using the HTTPS protocol, RESTful web services provide a simple, stateless, and secure foundation for application interoperability.

LTI

- Learning Tools Interoperability is a standard for providing access to 3rd party applications or service tools from Learning Management Systems and also uses the HTTPS protocol. This allows XSI to utilize a common technology platform for both Training Delivery, Supplier, and Enterprise integration.

Legacy

- XSI can also support additional types of integration such as FTP, SFTP, SMTP, XML/HTTP, SOAP, and most any endpoint that has an exposed API.
XSI and Security:
XSI endeavors to use the highest level of security appropriate to the supplier endpoints being utilized. At a minimum this would include, but is not limited to:
HTTPS/SSL/TLS for channel encryption

Additional data encryption as required by the specific business scenario or regulatory statute

Private Integration keys and the use of OAuth or SAML for authentication and access