In today's landscape, where customer experience and engagement are crucial, the art of storytelling is a powerful tool for credentialing associations and organizations across diverse industries. A compelling brand narrative not only nurtures trust but also resonates with community members, creating a lasting impact. The following tips and insights came from the session Leveraging the Most Powerful Marketing Channel: Your Credential Holders at the Institute for Credentialing Excellence's Exchange 2023 Conference in Colorado Springs.
1. Building Trust through User-Generated Content:
During the session, the speakers highlighted that 76% of customers trust content created by current customers. This statistic underscores the significance of leveraging user-generated content as a powerful storytelling tool. By showcasing authentic stories of customers who have benefited from your credentialing programs, you can create a compelling narrative that engages your community members on a personal level. Also, emphasizing the role of instructors as influencers for individuals pursuing certifications further builds upon the credibility and trustworthiness of your brand.
2. Fostering Advocacy:
Develop toolkits for cultivating brand ambassadors within your community. Encouraging users to become advocates for your programs can amplify your brand's reach and influence.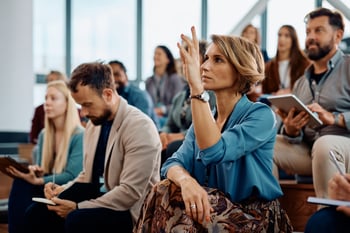 3. Harnessing the Power of Social Media:
Social media serves as a vital platform for amplifying your brand's narrative. Educating your audience through informative and engaging content, leveraging referral programs, and repurposing existing content can significantly enhance your brand's visibility and credibility. Sharing the posts your community creates, sharing certification badges, and consistently providing value through your posts can further strengthen your narrative, making it memorable and impactful.
Don't be afraid to ask your audience what they want to see more of, what they need help with, and what is clear and unclear. Listening can help you to craft a narrative that better connects with your audience.
Crafting a compelling brand story that resonates with community members requires dedication, authenticity, and an understanding of your audience. By harnessing the power of user-generated content, fostering advocacy, and leveraging social media, credentialing associations and organizations can create a narrative that not only sticks with their audience but also shapes their brand identity in a meaningful way. Every brand has a story, and it's up to you to make it worth retelling.