I had the privilege of attending the Institute for Credentialing Education (I.C.E.) Exchange session Boosting Certification Programs with Effective Marketing Strategies: Maximizing Results with Minimal Effort. In it, the presenters Amanda Rutter the Marketing Manager from Internet Testing Systems and Mike Adams the Director of Communications at The American Board of Pediatrics (ABP) offered valuable insights on small marketing efforts that can yield substantial results in your certification programs. Below are some key takeaways that can supercharge your marketing strategies.
#1: Purposeful Content Creation
Most of the time numbers/analytics from one single piece of content aren't going to blow anyone away. To make an impact, you must be purposeful in your content creation. Here's how:
Extract video snippets from webinars to share on social media platforms.
Transform transcripts into engaging blog posts.
Adapt and repurpose your content to cater to different audiences across various channels.
Remember, not all content has an expiration date. Be mindful of its potential for future use.
#2: Feedback is a Gift
Leveraging candidate feedback is a cornerstone of success in credentialing programs. It offers numerous advantages:
Builds trust with your audience.
Demonstrates your willingness to listen and adapt.
Nurtures stronger relationships.
Aligns your offerings with the market's needs.
The session featured a powerful example from Mike, who realized that the phrasing used to describe their exam platform which allowed applicants to choose where and how to take their exam wasn't resonating. What they thought was "convenient" turned out to be "flexible" in the eyes of their test takers. This change in language had a profound impact on their campaigns. It emphasizes the importance of actively seeking and incorporating feedback.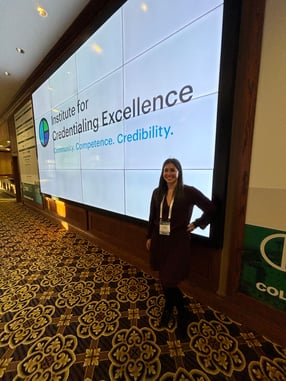 #3: The Power of Storytelling
Authentic storytelling is the heart of effective marketing for certification programs. Don't shy away from evoking emotions. Before obtaining a credential, individuals often experience anxiety, while the moment they succeed is filled with excitement and elation. Here's how you can harness that as an association or credentialing association:
Share real stories that resonate with your audience.
Connect with your community on social media by liking, commenting, and sharing their posts.
By being present and empathetic, you can build a strong, supportive community around your programs.
#4: Leveraging Tools and Platforms
To achieve more with limited resources, consider leveraging tools and platforms that enhance efficiency. A few strategies to consider include:
Utilize AI-powered solutions like ChatGPT to help you provide faster and more relevant responses to media inquiries.
Explore programs and platforms that facilitate faster content creation, freeing up your team's time for strategic initiatives.
By purposefully creating content, valuing feedback, utilizing storytelling, and embracing the right tools, Associations and Credentialing Organizations can elevate their programs that leave a lasting impact on their audiences.