Kevin Brice, the CEO of Xvoucher traveled to London to attend the 2023 E-Assessment Association Conference. I interviewed him to learn more about the London-based conference to find out how leaders in the industry are leveraging AI.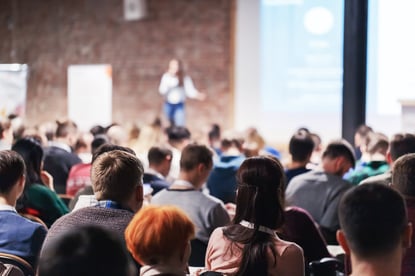 Were there any emerging trends discussed that you believe will have an impact on our organization?
AI emerged as a prominent topic, dominating many discussions during the event. Countless organizations shared their plans to integrate generative AI into their operations through practice exams and content development for exam preparation materials, and some were already reaping the benefits of incorporating AI into their business processes.
The atmosphere was charged with possibilities to propel the industry forward, and witnessing industry leaders' creative endeavors to leverage AI in innovative ways was exciting. One subject that sparked conversation was formative assessment using AI. This revolutionary approach shows great promise as an alternative to traditional crowdsourcing, offering the potential to significantly reduce content generation costs while yielding more robust and insightful results. The future looks promising as AI continues to revolutionize the landscape of the E-Assessment industry, promising exciting advancements and groundbreaking achievements.
In what ways do you believe attending conferences like this positively contributes to your role as CEO and the overall success and growth of the company?
Attending this specific conference, as with a few others, provides an opportunity to connect with valued Clients and Partners as well as staying current on activities and best practices in assessment. Because the event is specifically focused on electronic assessments, challenges, and opportunities seemed to be really aligned among programs. #Surpass, #AlphaPlus.
What were the key takeaways regarding how Xvoucher can best benefit organizations you met during the event?
There is quite a bit of attention these days being put on commerce capabilities. Our payment processing solutions take compliance and headaches away from partners that focus on exam delivery and/or item banking. increasingly, credentialing and certification programs do not want the liability of tax compliance, so our company takes that on to the benefit all parties.
What memory from this week stood out to you and why?
I enjoyed and appreciated the conversations with so many assessment colleagues about the challenges and growth opportunities of their credentialing programs. Continuing education and memberships are increasingly adopted by programs as a way to keep their members learning at the point of need, and validating skills and competencies.
As anticipated, AI was pretty dominant on the agenda. Thought leaders in the AI space shared their perspectives, and it was great to hear about its uses in electronic assessment and learning as well as the risks and unknowns.
I'll leave you with this. David Yunger, a longtime friend, Forbes Councils Member, and conference panelist on AI Implementation recently said "win through failure. Want to push the limits of what's possible? Build a culture where it's safe to take risks. Taking risks means you'll fail. But fail fast. Learn fast. Go fast. It's about a cultural shift."