Too often training budgets slip out of reach and tracking becomes a manual nightmare. So how do you set your training investment up for success? Learn the do's and don't from experts who have taken their training programs to the next level.
Common Barriers:
Organizational Barriers - be able to identify and address common barriers such as budget constraints and lack of resources.
Limited Support - managers who don't prioritize or encourage training can actually hinder it.
Time Barriers - Employees often face time constraints because of conflicting priorities and heavy workloads. Often they'll prioritize immediate work over long term development. They need to understand the relevance it has to their current role and future career roles.
Design Barriers - Conduct a thorough needs assessment, think about various learning styles and make the process seamless.
We invited experts Eric Strause from Skillable and Tara Dean from CompTIA for an insightful conversation moderated by Laura Faughtenberry at Xvoucher. Click on the image to access the on-demand recording of this compelling webinar.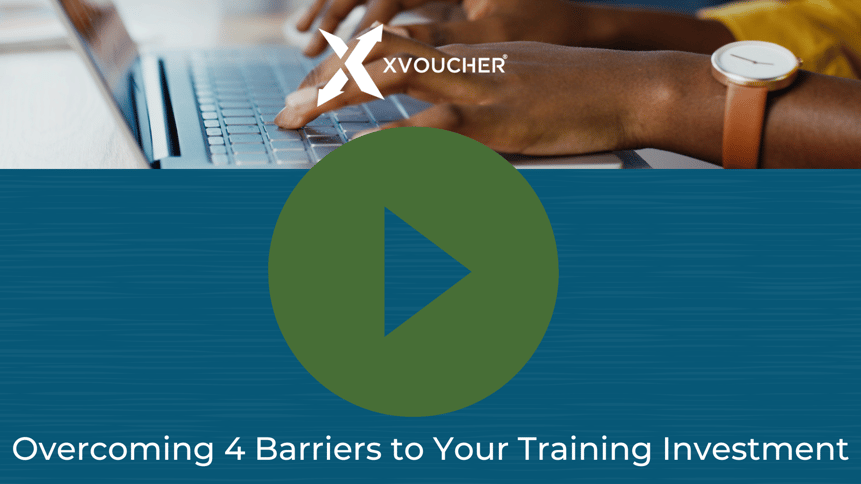 Key Takeaways:
Learn how to foster a culture of growth mindset and promote continuous learning
Learn how to take advantage of tools that allow you to stretch your budget and maximize your training ROI
Demonstrate Learning Impact: Learn how to effectively showcase learning metrics that align with organizational goals so that you can make more informed decisions about future training investments.
Gain insights about common pitfalls and mistakes to avoid when implementing training initiatives.