Xwallet, by Xvoucher, is an unparalleled tool to manage training contracts.
By managing budgets with Xwallet, Xvoucher has completely re-imagined the way training contracts should work. Essentially, Xwallet is a prepaid account in the Xvoucher system that allows customers to purchase training and other learning materials whenever they are needed. But it's also more than just an account balance--the Xwallet system offers our Customers a number of additional account and training management tools.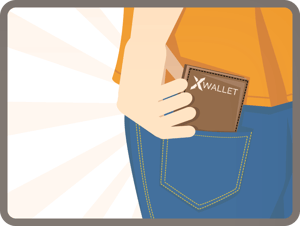 Using Xwallet allows our Customers to park their training funds into a single, connected account on the Xvoucher platform, which can either be used for purchasing learning materials right away, or for training or certification renewals that are still months (even years!) down the road. Once funds are received and the Xwallet is set up, the Xvoucher system allows a customer to view the current balance of their Xwallet as well as order details for spent funds. Customers can divide Xwallet funds into multiple pools, and into multiple purchase orders (PO) within each pool to track different types of learning programs.
With the use of Xwallet, there is no more worrying about wasted funds at the end of a fiscal year.
Xwallet can also be useful for Continuing Education (CE) programs. With new additions to our CE Solution, Xwallet allows customers to add funds to schedule payments for CE kits that will be paid for a course on a future release date. For example, if you have a CE program that requires 3 years worth of learning, to become available on a certain date each year, Xvoucher will automatically charge the Xwallet each year on the date that the candidate is up for renewal. So you create a Xwallet for your 3-year CE program but only pay for the first year and then pay annually after that your Xwallet will be charged automatically. Not only does Xvoucher get rid of the annual reimbursement process for employee training, the Xvoucher platform also releases the items annually so there is no work involved for the candidate to worry about, they can just log in and access their next years training.
To sum it all up, Xwallet is a prepaid account balance that allows you to:
Purchase learning materials right away or at any point in the future

Track and manage training/learning budgets

Use an ENTIRE learning budget so it isn't lost at the end of a fiscal year

Access our Continuing Education solution

that includes automatic payment annually for delayed release items
How it will benefit your learning:
Instead of letting a training budget go to waste, allocate that money to training before the end of the fiscal year to use as needed, even when your training needs change.

Buy training or learning materials as needs change, allocate within your different departments at any point in time.

No more wasting time with employee/candidate reimbursements. Fund are controlled by the customer!
Setting up a Xwallet in the Xvoucher platform is easy! We'll even do most of the work for you

.
Xwallets are set up in 4 easy steps:
A quote or invoice is generated by Xvoucher and provided to the customer. This can be provided to the customer by the Channel Reseller or Xvoucher.
Payment is sent and funds are received by Xvoucher via check, wire/PO, or over-the-phone credit card payment, whichever works best for your organization.
An Xvoucher administrator creates the Xwallet pool, adds funds to the pool, and assigns the Xwallet pool to the Channel Reseller or Customer that issued payment
Channel Resellers and Customers may use funds as they wish when purchasing vouchers, from a variety of different suppliers, by choosing Xwallet at checkout.