Xvoucher is excited to present a new series of Zoomcasts called Xvoucher Shorts.
These conversations are designed to discuss critical assessment and learning issues with experts in the credentialing field. Each recorded segment is no more than 10 minutes in length, we hope you enjoy!
Credentialing and Academia
In our first edition, Jamie Mulkey, Vice President of Sales for Xvoucher, will be speaking with Dr. Roy Swift, Executive Director of Workcred.
As many of you know, there is a great disconnect between credentialing organizations and academia. The two factions barely know the other exists. They certainly don't speak the same language and don't have common frameworks in which to work together. Dr. Swift will discuss this chasm and some initiatives that are being undertaken to facilite understanding and foster relationships between these two groups.
"The issue is that we need to be able to give degrees legs, so to speak. To be able to be transparent to employers about what a degree may have that has a certification associated with it". -Dr. Roy Swift
Dr. Roy Swift, Ph.D. | Workcred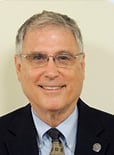 Dr. Swift is currently the Executive Director of Workcred, an affiliate of the American National Standards Institute (ANSI). Previously, he served as the chief workforce development officer at ANSI, and as ANSI's senior director of personnel credentialing accreditation programs.
Dr. Jamie Mulkey, Ed.D. | Xvoucher

Dr. Mulkey is currently the Vice President of Sales at Xvoucher. Spanning over two decades of service in the credentialing industry, Dr. Mulkey has a distinguished history of contributions to the field, having held major positions in testing organizations, certification task forces, and testing-related non-profit associations.
We also want to take a moment to recommend watching Dr. Roy Swift's video on Differing Types of Workplace Credentials. Executive Director of Workcred, Roy Swift, Ph.D., illuminates various types of credentials – including certifications, certificates, and licenses – to help people understand how they differ, and appropriate uses for each. Watch now.